Eagle's Wing Learning Center provides a feast of class offerings for age 3 through 12th grade. We are guided by the Charlotte Mason daily schedule of academic instruction in the morning and exploration and discovery in the afternoons. Our 'days' are shorter than a regular school day, from 9-12 in the morning, and 9-2:45 (or 3 for older students) for a full day. Students may choose to enroll in a flexible full day program, or a morning only, or afternoon only program. We also offer electives in Art, Spanish, Music, Citizenship, Science, Literature, and Math.
Our Class Offerings include:
Early Explorations on Wednesday for ages 3-5 will provide a gentle introduction to Charlotte Mason learning with a variety of non-academic, hands-on, creative play and exploration. Enrollment is for a 1/2 day morning or 1 day full day.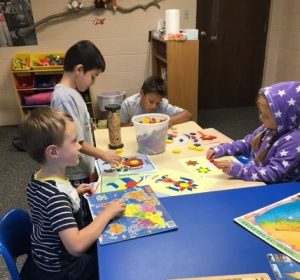 Academic Explorations is for Elementary students K-4 and will include a rich rotation of academic and hands-on instruction. Academic Explorations is a 1 day program on Wednesday's.
Creative Explorations will continue the feast for Academic Explorations students in the afternoon; with outdoor exploration and nature study, beautiful literature and studio art. Creative Explorations is the afternoon portion of our Wednesday program.
Elementary Explorations students can enjoy a deeper immersion with a flexible 1 to 2 day program; on Tuesday and Thursday for grade 4-6.
Junior High Explorations, for students in grades 6-9, is a flexible 1-3 day program on Tuesdays, Wednesdays and Thursdays; Tuesday and Thursdays students will cover all academic subjects, with afternoons covering Math and Studio Art. On Wednesdays and Thursdays, students may choose from a cuisine of electives in Lab Science, Literature, and Spanish, U.S. Government and Constitution, and The Story of America through painting.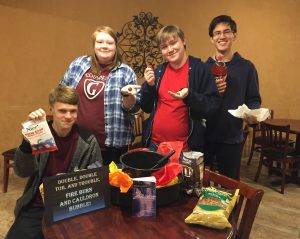 High School Explorations students are provided with a rigorous study of all academic subjects with a flexible 1-3 day program Tuesdays, Wednesdays, and Thursdays. Afternoon students will enjoy a lively cultural study of American government, The Story of America and through painting, and Studio Art. On Wednesday, students will explore in depth Meteorology and Electronics, Literature Circle, Spanish, and Math!
Students all all levels may enroll a morning program, afternoon program, or a full day program.
See Class Schedules below for specific class-times.
Class Schedule 2019-20 Jr-Sr High